in cele of halloween P2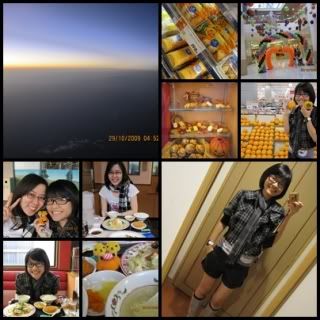 head out 4 lunch with Lynn aft a short rest..
went 2 aeon supa follow by to keisei stn nearby 4 lunch..
decided 2 pay e same restaurant a visit aft e previous attempt..
we end up ordering e same main + side dish - gyoza!
spotted halloween decor everywhere!
including 1 of my dislikes - pumpkin figurines..
i brin along raju's kapi everywhere i go..
ohh, i managed 2 witness daybreak durin my 710 again! heheh~
yeah~ whole mth of states + korea + ams = more boots wear!
this entry is so random..

i think i need 2 replenish my slp..
its Topaz Tour 8hrs ltr with Lynn!
am visiting Statue of Liberty, Empire State Building,

World Trade Center Site, Rockefeller Center/St. Patrick's Cathedral
& finally the United Nations for photo taking!
am so gonna snap until i drop!
golden half & cheki is coming along with cancan! ;)
Labels: lunch date, me myself n i, working life