Another Week Gone...
the coming week will be the 5th..
no.. its not 49days yet so im stil in monotone clothings.
am feeling fortunate that this week is finally over.
i started Mon with a -ve news followed by Tue,
which i was happy for nothing.
and then Wed was really a terri-horigible day initially!
i couldnt find the damn Merchant Square!
was told to locate Riverside Point after i exit from B.
but i couldnt find the Riverside Point!
so i tried using my Maps on iphone to find Merchant Square!
thinking im going in the right direction,
i crossed the road & walked another 15mins b4 i check the Map again.
it wasnt refreshed immediately but after it refreshed,
by then i was seriously cursing under my breathe!
its no fun walkin with 2 blistered toes & 1 blisters heels!
did i mention i was walking under the broad daylight?!
walked back to the exit B which i came out from 25mins ago,
and locate the Merchant Square again!
the place which i could have reached within 15mins,
actually took me near to 45mins to arrive.
tell me how dumb can i be? -.-"
sorry, dumb is not the correct description.
i should say im a direction idiot.
anyway, i was cheated to go down thinking it was a cust svc post.
who knows it turns out to be yet another F.C post!
BIG SIGH! i made my exit & stand at a streetside pasting plasters.
my 2 poor toes was red from all the abrasion & blisters. ;(
sweating, make-up melting & pain from the toes made me super touchy!
lucky my bud was consoling me..
i still got a 2nd interview 2 look forward to!
dont be depressed & maintain a +ve attitude 4 the next!
was presented with a Eng & Chn test b4 the interview.
was told to do translation & grammatical error corrections.
WAH! testing my language leh!
i die with the property CHN-ENG translation ads.
terrace, north, south, freehold, extended renovation blah blah..
i duno how 2 phrase them in chn leh?
but i cheated abit by looking up how 2 write the words.
i type in hanyupinyin in iphone to check. ;x
afterwhich i was interviewed by 2 ladies.
both were v kind looking auntie to be honest.
they interview me in both chn & eng language too!
i think i kinda impress them with my flyin job incidents!
they were surprised by the type of pax i've dealt with so far..
took a cab home since it was drizzling when i left.
& hardly i wil entertain cabbie esp uncles!
he told me he've got a 18yo daughter who only grad frm ITE.
quoting what he said, "no future la.. faster get married better!"
i answered him, "even if married le u wil stil worry abt her? isnt it?"
he say, "aft she married, i let her husband worry abt her loh!"
HAHAHAHA! he even wish me all the best in my interview!
while takin the lift up, i strike a conversation with my neighbor!
the auntie was dog-walking, stayin at 23rd storey!
i asked her, "how old is ur dog? so quiet ah?"
auntie say, "4yrs old, very old liao.."
!!!!! "huh? 4yrs old consider old meh? mine already 10yrs leh!"

i duno why i was really in a mood like i strike toto!
is like i know i did well during my 2nd job interview,
i know i'll confirm get the job that kinda feeling!
Thur was spend recuperating at home..
my legs & arms were aching from doing too much jumping jacks.
and my toes.. i hafta let them rest b4 i wear covered shoes out again.

Fri, i went down to my 2nd job interview location..
was invited 2 go down discuss abt the job package & salary..
as predicted, they couldnt offer me my expected salary.
there's no way i can survive with the amount.
hence all i can do is 咬紧牙关继续找!
i dont believe i cant find a job which can pay me THAT amount!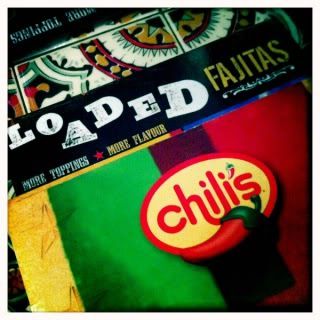 celebrated cine's bdae over here!
as suggested by Miss Chan!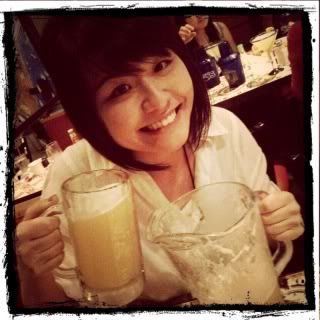 ordered a jug of hoegarden shared by 3 of us excluding Miss Wong.
i guess each of us is about 1 and a half mug?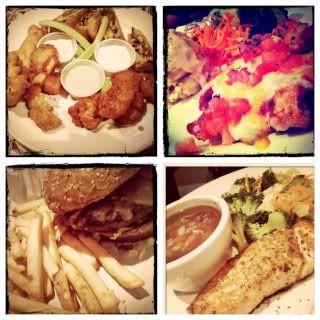 the among of food we ordered!
very very heng! i suggest to Miss Wong that we share!
so the both of us only ordered 1 main dish!
even with 1 main dish & a big plate of side dish,
i couldnt even finish it! ;O
blame it on my ultra late lunch @ Mos.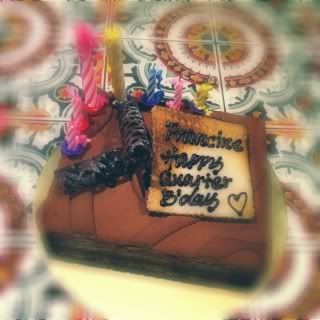 presenting the Chocolate Amer cake from bakerzin!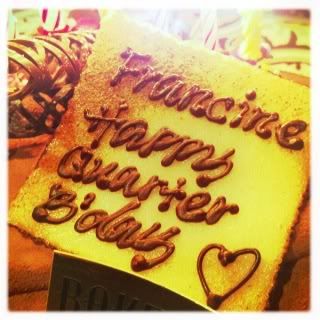 the wordings on the piece of icing!
HEHEHE! hows the idea of Happy Quarter Birthday?! ;p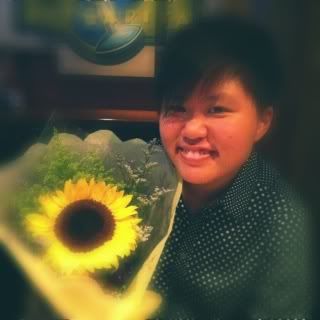 Belated birthday girl with her sunflower!
please always be & stay cheerful!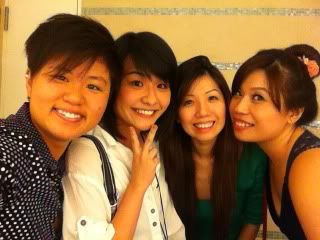 e 4 of us excluding Lisa..

after our fulfilling dinner, we walked over to the USS!
took photo with the USS globe (finally!)
fortunate enough to find a passer-by with photography skill!
he took really nice photos 4 us! ;D
definitely attempted the jump shots as well..
lalalala.. several failed attempts taken by Miss Wong!
full in the stomach & bladder, we call it a day & hurried to toilet.
was homesweethome thanks to Miss Chan's dearest!

jux took a bath, updated my diary & sent out resumes.
hence here i am updating my blog about my current week events.
i notice a drop in my readership..
is it due to me neglecting my blog which resulted in the drop? ;(
hate to repeat this but i hafta remind myself!


"unemployed people cannot anyhow spend $$!"


no matter how much i envy ppl going holidays;
or whosoever got new bags, new shoes, new clothes etc;
every1 around me dinning out & watching movies;
i am satisfied just to have home-cooked food, dl-ed dramas & my iphone.
Labels: celebration, lunch date, TGIF, working life