可能 永生难忘的二十六号!
was doin spring cleaning that day..
when we decided its time to change our modem at home!
so we ring singnet up & they agree 2 send technician down.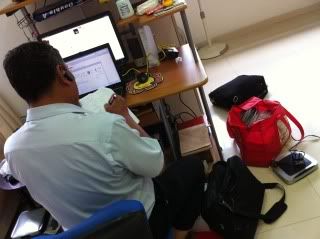 thats e technician helpin us 2 change a new modem.
finally no more weird modem startup sound;
and hello to new pearl white modem!
but before the technician went off, something happened.
he realised his specs is missing so we searched high & low.
den my mum felt accused cux earlier on i passed her her specs.
which the technician was just asking me to check,
"see if i accidentally took the wrong specs away?"
ended up my mum feelin accused & say we shouldnt have let -
old, short-sighted & most imptly non-chinese speaker technician 2 come.
like wth is wrong with non-chinese speaker?!
WE ARE the ones communicating with him not YOU?!
so who is the racist over here whom we're talking about? -.-

while painting my nails & on the phone with bf,
my mum went market to buy food & sis went out with bf.
my house phone rang & it sent my heart racing.
i couldnt think straight & only thought of calling my sis first!
got hold of sis & mum den another phonecall came.
at that point of time im actually shivering.
her words keep repeating in my mind, "阿嫲可能不可以了。"
Labels: me myself n i, memorable day