28.07.2009 happy day until ...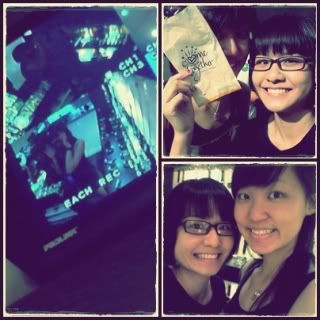 meet head @ Orchard Central & walked down FEP.
she had her facial earlier on so i went down meet her..
managed 2 get my missha eyebrow pencil too! ♥♥
den bght an identical watch as head&d!
i din copy them! head asked me 2 get it de..
so we 3 can have identical watch! ;D
surprisingly, there's CTV inside a small watch shop..
thats when we make use of it.. thou wasnt clear..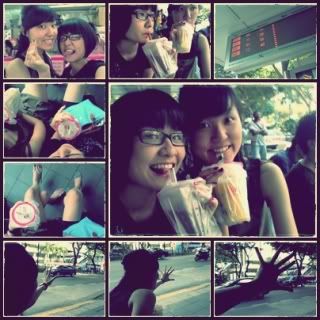 we had oldchangkee/shaker fries/bubbletea again!
fulfilled another day of shaker fries!
hahaha! den e same o' bubbletea flavour 4 us..
head was tryin 2 do some stunts as shown in bottow few pix..
does it looks like she's fallin off?
or she's tryin 2 catch hold of e cars??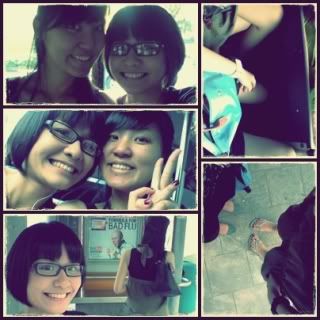 we took bus 502 down to Jurong frm FEP!
then changed to 174 go down JP!
i think whole journey <1hr only lohx..
gong gong me duno 502 its an express bus!
i was tellin head, "hopefully sum1 alight den we can sit"
but inside her mind was, "whats taily thinkin?"
its only aft like 20+mins did we managed 2 get our seats..
look at our sittin etiquette! ;x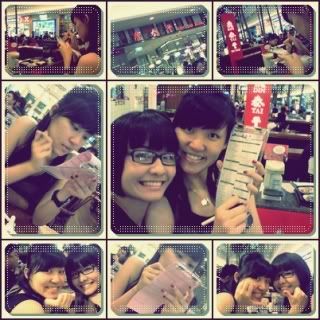 head took order since she always dine here!
look at her serious face while markin down e order..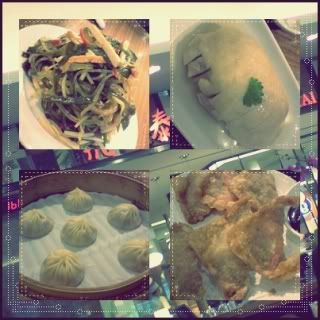 e amt of food we shared..
there's e egg fried rice too!
but my 不争气 hp auto-shutoff aft snappin it..
& i din realise it wasnt saved..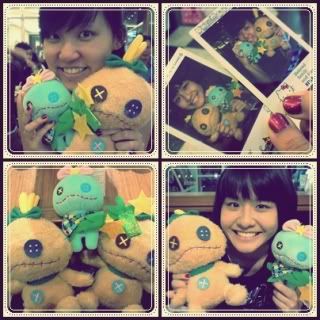 scrumpy scrumpy everywhere!!! ♥♥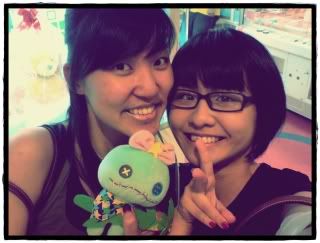 taken right aft our 1st catch!
too bad photography not allowed in arcade..
else we wld have snap a shot nx 2 e machine lohx..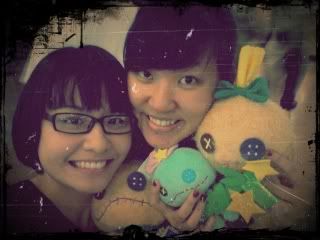 at e end of e day, we're happy with our gains! ♥♥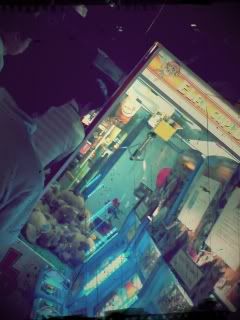 & thats e machine which i caught 2 in a row!!
we visited e arcades inside JP,
and head saw her fave scrump inside!
she plead & beg & watever u name it 2 me..
that she wanna HAVE IT!
den we cooperate & got e greenie scrump at $6!
we literally scream our head off infront of e girl!
totally unbelieveable as to how e scrump fell into e hole!
its like sum unseen force aid us lohx!
afterwhich we head 2 another arcade 4 e brownie scrump!
changed $5 worth of token & decided that $5 finish we'll go..
but can u believe it?!
i actually caught e stitch at 1st go!!
exchanged e stitch 4 e scrump doll imm. lohx!
with $4 left, i decided 2 try again..
mayb catch a stitch & give it 2 D as gift!
thats when e most unbelievable thing happened!
i succeeded in catchin 2 stitch in a row!!
WTH! $2 and we're hm with 2 plushie!
i totally cannot believe how lucky i was!
at that moment, there's already ppl watchin us..
everytime we caught 1, we'll scream in excitement!
we shall head bac again 2 try it out..
hopefully we can catch another 1 for our D! ;)
aft meetin head, i met Mr.Y at JP 4 Public Enemies..
was a long 2+10 movie which i find it abit draggy..
but with gd company, e time pass by v fast..
and unknowingly, im on e way hm already..
however, thanks 2 *u 4 ruining my happy mood of e day..
plus another 10% JOL mugged..
left 80% shall complete it within these 3days..

dad's leg op. is brght 4ward to e 7th Aug..
while im not arnd as im on flt..
bac on 8th but < 12hrs ltr im on e way 2 hkg..
/* bless him!
Labels: creatures, dinner treats, family-love, memorable day, movies, mush