oh no! not again!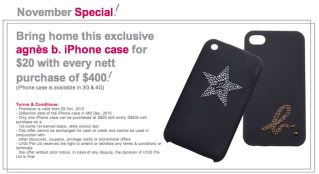 im always tempted by nice looking things..
if only i can exchange the star onto the iphone4 instead.
& if only some1 got something to grab from agnes b;
but is not using any iphone..
PLEASE LET ME KNOW!!
i will gladly pay for the iphone casing myself.
of cux.. its more like a dream than reality.
the casing is in my fave silicone material sumore....
& its 1 of my fave fave brand.....
"alright, i hafta snap out of this..
there's no way im gonna spend $400 to get the casing.."
Labels: me myself n i